Are linear texts or hypertexts better for learning?

The lure of hypertext

Conventional digital texts, like books, are linear. In contrast hypertext distributes ideas over a hierarchy or network of pages like a wiki, encouraging the learner to follow their own path through the materials (a smooth space allowing rhizomatic learning: Bayne 2004).
hypertext does not permit a tyrannical, univocal voice. Rather the voice is always that distilled from the combined experience of the momentary focus, the lexia one presently reads, and the continually forming narrative of one's reading path (Landow 1991, p. 5)
However hypertext could hinder understanding.
The electronic docuverse of textual juxtaposition and nonsequential tracking favored by our current crop of hyper-theorists [...] disperses and distracts the attention, splintering the reading mind into katzenjammer fragments [and leads it] down a coiled labyrinth of links, webs, nodes, maps, illustrations, diagrams, sound bites, and animations into a state of intellectual convection. The text is not enhanced so much as vaporized (Solway 2011, p. 341)

Theoretical predictions

Making sense of text is a complex activity in which the student attends to the most relevant information, holding it in temporary 'working' memory, processing language, and making associations with prior knowledge. Both attention and working memory are limited (Pashler 1999, Baddeley and Hitch 1974; Baddeley 2000). To learn students need to build up a 'situation model' (Kintsch and van Dijk 1978) in which they integrate the information with prior knowledge to create a coherent mental model of the events, characters and ideas (DeStefano and LeFevre 2007).

Non-linear text may be more difficult to process as the student needs to choose which links to follow and how to affix the new information to the old. Perhaps however this challenge would be a 'desirable difficulty' (Bjork & Bjork, 2011, Bjork 2012).

Desirable difficulties "trigger encoding and retrieval processes that support learning, comprehension, and remembering" (Bjork and Bjork 2011 p. 58). However if a student does not have the skills to deal with the challenge, such difficulties hinder learning.
Cognitive load theory identifies three different ways in which demand is placed on students' cognitive resources.
intrinsic load is the cognitive effort required to perform an activity, which depends on task difficulty (Sweller 2010).
extraneous load is additional cognitive interference caused by the method of instruction e.g. poor presentation, such as where attention is split across two pages. What is extraneous depends on how the task is defined. For example if jargon is unnecessary for learning, it is extraneous. However if the jargon is part of the learning task then it is part of intrinsic load (Sweller 2010).
germane load is the effort needed to retrieve existing related knowledge and interpret the material. Increasing germane load is a 'desirable difficulty' as it increases thinking time and hence the richness of encoding in long term memory.
Sweller (2010) suggested that when learning, any extraneous load eats into the available cognitive capacity, leaving less capacity to deal with germane load. Therefore difficult materials which come with unnecessary (extraneous) elements will be processed more superficially.

DeStefano and LeFevre (2007) argue that hypertext will impose a high extraneous cognitive load due to increased memory demands.

When people follow links, they may lose track of where they are in the text, of their reading goals, of the larger context for the node, or of material activated in working memory. Loss of context, or of other information stored in working memory, may impair the development of rich, accurate situation models. DeStefano & LeFevre 2007, p. 1627

Empirical evidence

DeStefano and LeFevre found some evidence that restricting the number of links aided students but Madrid, Van Oostendorp and Melguizo (2009) did not, though they did find that students given more links took longer to work through the materials and ended up with a situation model different from that of the experts.

Lee and Tedder (2003) found that linear text was remembered better than hypertext, particularly for students with poorer working memory who are inclined to process each page separately, missing any overall themes. Fontanini and Timitch (2009) compared second-language students' comprehension of linear text versus expository hypertext to see if they noticed contradictions in the texts: they spotted more contradictions in the linear text. Zumbach and Schwartz (2014) found students remembered linear better than non-linear texts, though Zumbach and Mohraz (2008) found no difference between linear text and hypertext for an encyclopaedia article, only for a story, so it may depend whether narrative is important.

Some age differences have been found in use of hypertext, with older adults slower and more affected by number of links and by clutter (Lin 2003, Grahame, Laberge and Scialfa, 2004), as would be consistent with cognitive ageing, though older adults in Graff's (2005) study explored a complex hypertext more comprehensively than young adults did.

Adding structure to hypertext

DeStefano and LeFevre (2007) found evidence that making hypertexts more hierarchical helped less experienced students, however it did not make any difference to more advanced students. They suggested that for the most able students hypertext could be beneficial, by increasing germane cognitive load i.e. desirable difficulty.

Salmerón, Gil, Bråten, & Strømsø (2010) found that a spatial map signalling the link between documents helped, while Madrid, Van Oostendorp, & Melguizo (2009) found positive effects of guided navigation, suggesting the most coherent paths to follow. However this does beg the question of why use hypertext at all.

The disadvantages of hypertext seem to disappear when there is no narrative for students to miss.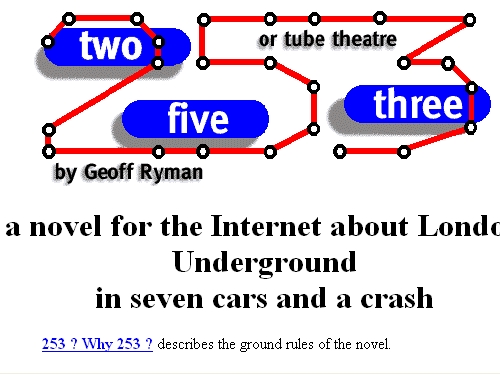 Ryman (1996) internet hyperlink novel


Conclusion

Theory and empirical evidence from cognitive psychology suggests that most students are at a disadvantage if material is presented in hypertext format, particularly if they are unfamiliar with the topic, less skilled, or have a low working memory capacity. This can be mitigated by adding structure to hypertext. If material is easy or does not have a narrative, using hypertext is not a problem.

There is no such thing as nonsequential thinking (or reading, for that matter). Every thought tells a story and every theory is a kind of narrative. Further, linear thinking by no means rules out imaginative leaps in which ideas seem to be plucked out of thin air. It is highly probable that what we experience as lucky, serendipitous, or unprepared "finds" result from a kind of subliminal thinking which escapes conscious attention—not to mention that, once captured, these sudden insights need to be developed logically and sequentially Solway (p. 346)